Parrot USA
Parrot is a high tech company located in Paris, France. A global leader in drone manufacturing and wireless devices.
We offer a wide range of Drones and Connected Objects, always aiming for innovation.
HobbyWow
Buy RC Helicopters, RC Planes, RC Cars and Parts at HobbyWOW .We all love RC Models!
We have Extremely low Prices on Walkera RC Helicopters and Parts, Align Helicopters, Art-Tech Planes, HSP HBX RC Cars and parts.
Fast shipping and Good service for you.
RC Moment
We offer various RC models and types for RC beginners, RC experienced or professional players.
Having the advantage of directly access to thousands of RC products and accessories suppliers and partners,
we offer new arrivals on daily basis at very affordable price. We offer thousands of items including RC multicopters,
RC quadcopters, RC helicopters, RC Motor cars, RC airplanes, RC mini flyers and RC accessories.
Walkera
Walkera established in 1994 in Guangzhou, China; becoming the largest professional aero­model manufacturer
focused on the research and sales of personal consumer aerial models.  Walkera known for developing the first commercially
available micro quadcopter, 
The Ladybird

, that started the consumer drone race.  Walkera now owns two subsidiaries,
UCDrone North America and Europe, exporting products to more than 100 countries and regions.
Vilfy
VIFLY is a technology startup who is dedicated in FPV racing drones. Our goal is to design and produce one
racing drone that everybody can fly.
HobbyInrc
We offer new rc toys, including Quadcopters, helicopters, tanks, cars and so on.
Newfrog.com
NewFrog.com is an online e-commerce company offering over 200,000 products including consumer electronics,
flashlight, clothes, jewelry and watch in stock with unbeatable prices and ready to ship in 2 business days.
DX Deal Extreme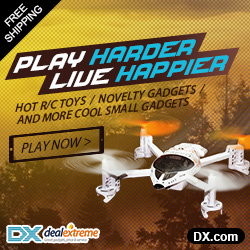 Comsumer electronics, Auto & Motor , iPad iPhone iPod accessories, Cell phones, Hobbies & toys,
Flashlights & lasers, Laptop & tablets, Camera & video.